How to create an Indoor Grow that you can harvest once a month!


Set up a building roughly 30X70 for every 40lbs/month you want to harvest.
Divide into 5 spaces
Cloning Room - 30X10
Vegetative Room - 30X10
Flowering Room - 30X30
Drying/Curing Room -30X10
Flower Packaged to Sell Room - 30X10



Cloning Room
Your first room will be a cloning room that leads into your vegetative room.
We recommend EZClone machines, along with a sanitary space to have the best success.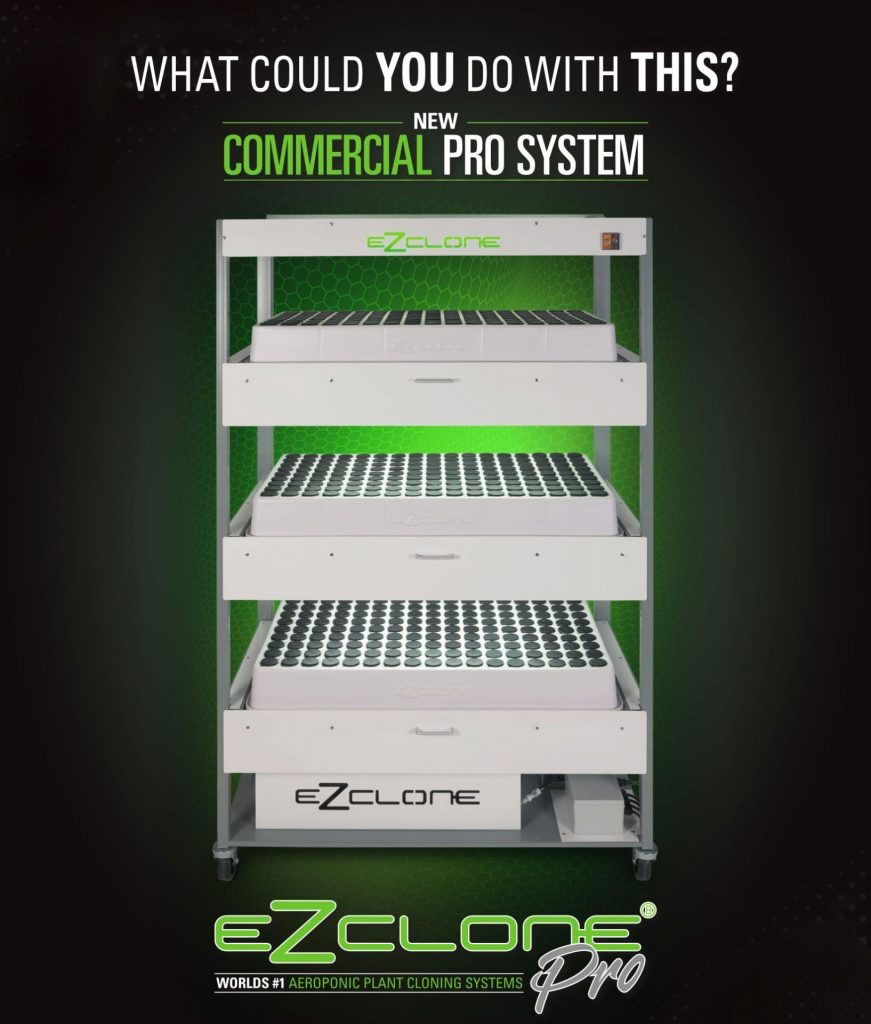 THE EZ-CLONE COMMERCIAL PRO SYSTEM
FEATURES THE NEWEST INNOVATION IN PRECISION AEROPONIC PROPAGATION DESIGNED FOR FULL-TIME, YEAR-ROUND PRODUCTION OF CUTTINGS.
STARTING AT $7,999 USD
FULL FEATURE LIST

Cloning Sites – 459 Total Cuttings

Total Power Consumption – 5.1 Amps / 612 Watts

Physical Dimensions – L 50"x D 30"x H 78" Powder Coated Steel

Frame (designed to roll through any standard size door).

System utilizes less than 10 Square Feet of space.

Heavy duty Roller Castors for easy mobility. Each shelf is built with it's own Sliding Drawer that opens for simple access to cuttings.

Single Watertight Electrical Box houses all components in one location.

Uses only 1 Standard 120V Electrical Cord.

Custom 19 Gallon Reservoir with Moulded Handles. Includes drains on the long and short side of reservoir.

30 Micron Water Filter, easily changed by hand.

Outboard Water Pump has individual Motor and Pump Head.

Motor uses 4.2 Amps / 500 Watts. Comes set from factory at 75 PSI.

High Pressure Tubing is routed snuggly and safely inside the Frame Rails. All fittings are leakproof Quick Disconnects.

Custom Fogger Heads from Senninger are secured to the bottom of each Catch Tray, producing a 65 Micron Droplet at 75 PSI. Foggers are simple to disassemble for inspection and cleaning needs.

System is fully fitted with Light Reflectors, each containing two T5 Bulbs, individually producing 21 Watts & 6500 Kelvin.

Each light has its own On/Off Switch.

Frame houses two Timers, one for the Water Pump, to customize your Aeroponic On/Off Cycle, and the other to control your Lighting Cycle (Pump timer is set from factory at 1 min on / 4 min off).

Total system power consumption for a 1 min on / 4 min off cycle time

(4.8 hours per day @ 5.1 amp – 612 watts) based on a .20c per

Kw/Hr rate, the daily use costs estimate is $1/day.

System omits 2,088 BTU/HR based on factory settings & recommended use. 369 BTU/HR omitted using only lights.

Vegetative Room
You will have your plants in your vegetative room for 30 days, then you will move them to the Flowering Room. While they are in the vegetative room, you will be topping them the first two weeks.
You will use the toppings to clone your next round of plants.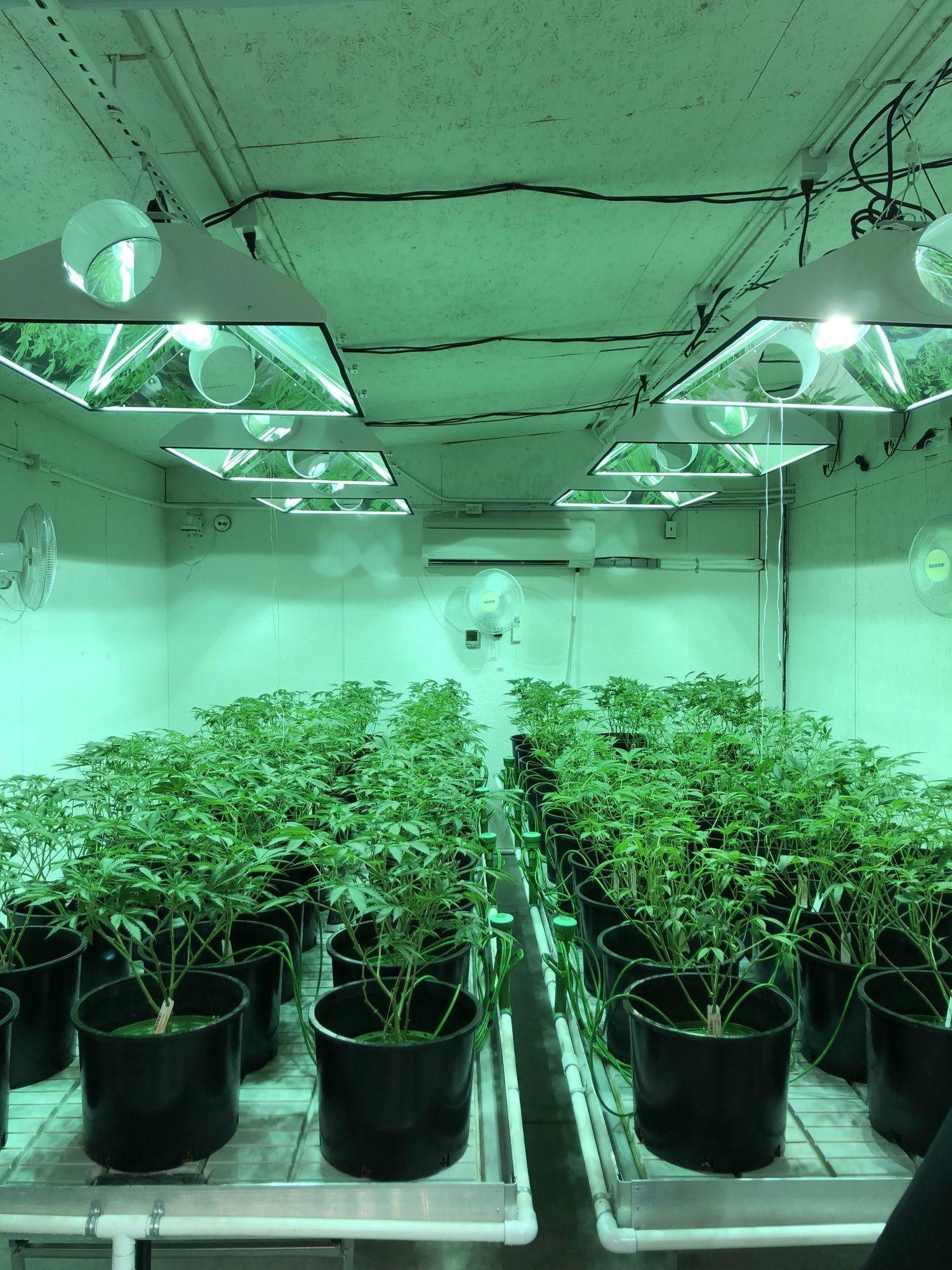 This is the vegetative room. Once clones are ready, they will be placed into 1gallon pots, and placed onto tables in the vegetative room. These tables are on rollers so they can easily be moved around to get to all the plants, which makes it a great feature! There are watering disks in the pots, which evenly distributes the water and fertilizer to your plants.
The lights in this room are in a fixture called

DeBoss from Sun System

.
The vegetative bulbs that are in the fixture, are a Eye Hortilux Blue Daylight Super Metal Halide Bulb.

Flowering Room
Your Flowering room will have early flowering plants in the first half of the room for 30 days. Then your early flowering plants will move to the second half of the flowering room for 30 days to finish.

The Flowering room will have lights set for the flowering stage. This room has two areas set up. One is for early flowering and one is for late flowering.
The lights in this room are in a fixture called

DeBoss from Sun System
.
The flowering bulbs that are in the fixture, are a Double Ended High Pressure Sodium Bulb.

Flower to Flower
Drying/Curing Room
After you harvest your plants, if you are harvesting for flower, you will move your flowers(buds) into a curing room, to dry to a 14% moisture. For full instructions about this process, check out our Properly Harvesting Flower for Flower area by Clicking Here!

Flower to Oil
Freezer Room
If you are harvesting for oil, then you will want a freezer to put your flower into until it is processed. For full instructions about this process, check out our Properly Harvesting Flower for Extraction area by Clicking Here!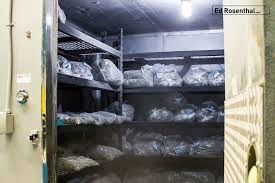 Packaged For Sell Room
In this room , you will package your cured and trimmed flower(buds) into 1 pound bags, put an appropriate size Boveda Pack into it, seal and label it, and place on appropriate shelves for sell.


After your first harvest,
you will be set up to be harvesting monthly!


Some key points to be successful with setting up to harvesting monthly.
Choose strains to grow with a shorter flowering period (less than 65 day) or an Auto Flowering strain.

Use your toppings from the vegetative stage, for your clones for your next round so you do not need to make any more purchases for seeds or plants. Having a cloning machine will save you lots of money.